A Candlelight Vigil was organised this Saturday night in honour of Dr Preethi Reddy by Doctors Against Violence Towards Women.
The event was powerful and sobering. Over 200 were in attendance at its peak in Sydney, Town Hall and numerous stood strong in Federation Square, Melbourne, and Garden Square, Brisbane too. Candles were lit, flowers were lain, messages of support for the family, and messages against domestic violence were shared, and hundreds shared in their sorrow and commitment to this issue. All in honour of a yet another life taken too soon at the hands of a violent man.
But this story has not ended. Thousands of women currently live in fear, trapped in cycles of abuse they can't break free of. Something we, an organisation of doctors, see all too often, and understand far too well.
Less that 2% of men who abuse their partners go to jail. Women are afraid to speak out. Doctors and service providers are constantly overwhelmed, and more has to be done.
It takes more than one $9.6million investment to start tackling these issues.
Women are afraid or reluctant to call the police, as they know police are less inclined to press charges that result in actual verdicts in court. Trauma, guilt and fear often deter the most vulnerable from getting help. The prospect of giving a traumatizing testimony, all for a flimsy piece of paper, that violent men ignore, or court systems reverse without consulting us – the experts – scares many from getting help too.
We see this happen every single day. We struggle to keep up, and are let down by a system that is far too often, broken.
When women do speak out, they are let down. When they try to get help, the system often can't provide it. And when a woman makes a choice to not be with someone, and has her life taken by a violent, entitled, cowardly man, they're forced to watch on in horror, and contemplate this happening to them, all too often.
10 women had died this year at the hands of men as we organised our vigil for Dr Reddy yesterday. That number has already risen to 14 as of this day. Please assist Doctors Against Violence Towards Women and service providers everywhere to end this unnecessary suffering.
Further, high resolution photos and videos of the event can be found here: https://drive.google.com/drive/folders/1C7sOC-Ask0r0oi7d_rnnuXabW-6w-to0?usp=sharing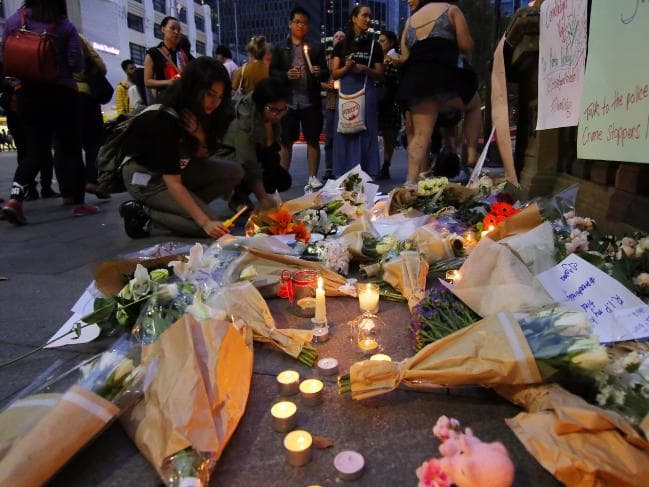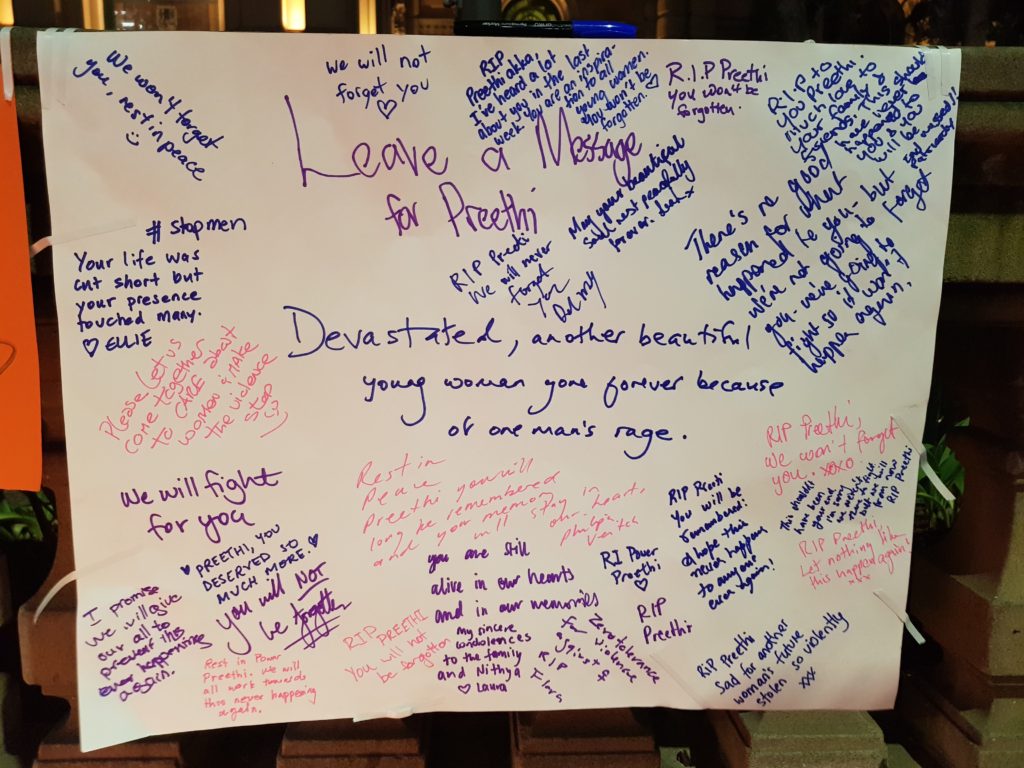 A few of hundreds who laid down flowers and candles on the night.